"Pakistan is a Very Good Team, They play like a Unit and are Playing Good Cricket, So it'll be a Challenge for Us": Rohit Sharma
India's Captain Acknowledges Pakistan's Rise to No. 1 in ICC ODI Rankings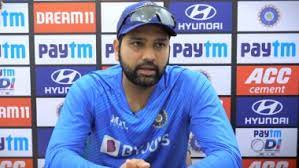 In a recent press conference before the much-awaited 2023 Asia Cup showdown between India and Pakistan, Indian captain Rohit Sharma expressed his respect for Pakistan's remarkable journey in cricket. Following Pakistan's convincing 3-0 series victory against Afghanistan in Sri Lanka, which secured their top spot in the ICC ODI rankings, Sharma acknowledged Pakistan's impressive rise in the cricketing world.
Sharma commended Pakistan's consistent performance across various formats, including T20 World Cups and 50-over cricket. He recognized the challenge that Pakistan presents to their opponents, particularly their formidable bowling attack. Although India may not have exact replicas of Pakistan's trio of fast bowlers – Shaheen Afridi, Naseem Shah, and Haris Rauf – in their practice sessions, Sharma emphasized their readiness to face Pakistan's talented bowlers.
When discussing India's strategy to confront Pakistan's strong bowling lineup, Sharma explained their approach of adapting their training to their available resources and leveraging their extensive international experience. This reflects the anticipation and respect surrounding the upcoming India-Pakistan cricket clash, as cricket fans worldwide eagerly await this thrilling encounter.