Pakistani-American Kaiden Malik Wins Gold at International Jiu-Jitsu Championship
Kaiden Malik Shines Bright as Gold Medalist in Florida's Jiu-Jitsu Championship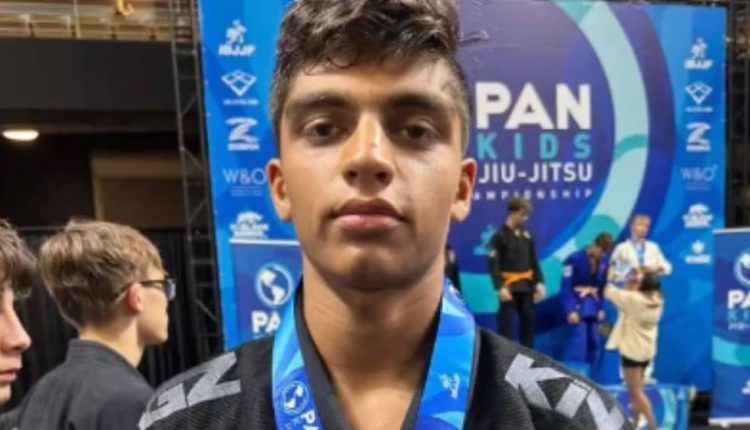 In a remarkable display of skill and determination, Pakistani-American athlete Kaiden Malik has once again taken the Jiu-Jitsu world by storm, securing the gold medal at the prestigious International Kids Jiu-Jitsu Championship held in Florida, USA. The event showcased Kaiden's exceptional abilities, reaffirming his status as a formidable force in the competitive realm of Jiu-Jitsu.
Amidst a crowd of awe-struck spectators and fellow athletes, Kaiden's triumphant victory in the IBJJF International Kids World Championship stands as a defining moment in his already illustrious career. This is the third consecutive world title claimed by the sports prodigy, underscoring his unwavering commitment and extraordinary talent.
Throughout his journey, Kaiden's consistency and dedication to the sport have been unwavering. This recent achievement reflects the culmination of years of hard work and unwavering passion for Jiu-Jitsu. Undeterred by challenges, Kaiden's perseverance and focus have elevated him to the pinnacle of success, where he continues to shine as a true global sensation.
Kaiden's journey to the top has been marked by a collection of gold medals and accolades, each testifying to his exceptional prowess and dominance in Jiu-Jitsu. His relentless pursuit of excellence has captured the admiration of fans and peers alike, solidifying his place as a force to be reckoned with on the international stage.
As a Pakistani-American athlete, Kaiden serves as an inspiring role model for aspiring sports enthusiasts in both countries. His achievements transcend borders and cultures, showcasing the power of passion, determination, and dedication in reaching the zenith of one's chosen field.
This incredible feat at the International Kids Jiu-Jitsu Championship is a testament to Kaiden's commitment to pushing boundaries and achieving greatness. His relentless pursuit of excellence serves as an inspiration to countless individuals, encouraging them to dream big and pursue their passions with unwavering dedication.
As Kaiden Malik continues to make strides in the world of Jiu-Jitsu, his journey stands as a beacon of hope for aspiring athletes worldwide. With each victory, he reinforces the belief that hard work, discipline, and a never-ending thirst for improvement can propel anyone to the summit of their chosen sport.
The future undoubtedly holds great promise for Kaiden Malik, and the world eagerly awaits the next chapter of this young athlete's extraordinary journey. As he continues to leave an indelible mark on the world of Jiu-Jitsu, Kaiden's legacy will undoubtedly inspire generations of athletes to reach for the stars and make their mark on the global sporting stage.