Huawei's New Electric Car Sets Impressive Mileage Record, Can Drive from Islamabad to Karachi on a Single Charge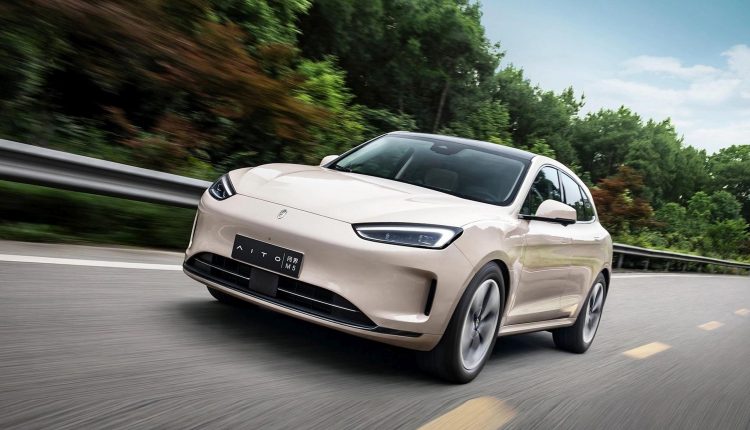 In an exciting development, AITO, an electric vehicle (EV) manufacturer backed by Huawei, recently unveiled its Standard Edition M5 SUV on July 2. This remarkable vehicle has caught the attention of automotive enthusiasts and potential buyers alike, thanks to its outstanding features and capabilities. The rear-wheel drive variant of the M5 is priced at Rs. 9.8 million, while the four-wheel drive model comes with a price tag of Rs. 10.6 million in China.
The M5 SUV boasts a host of improvements in terms of power, interior design, and aesthetics. Notably, the Standard Edition of this EV comes equipped with a level 2 advanced driving assistance system (ADAS). This system includes three millimeter-wave radars, twelve ultrasonic radars, and five cameras, enabling features such as automatic emergency braking, lane keep assist, remote parking assist, and adaptive cruise control.
AITO, the manufacturer of the M5, claims that their new creation is equipped with the Huawei DATS (Dynamic Adaptive Torque System), which effectively controls lateral and longitudinal body shaking through distributed torque. This innovative feature ensures a smooth and stable driving experience for passengers.
The exterior of the M5 has also undergone significant enhancements. The latest model features dual-lens LED headlights at the front, an illuminated AITO emblem at the rear, and pop-out door handles on the sides, adding a touch of elegance to the overall design. Furthermore, the car's drag coefficient has been reduced from 0.32 Cd to an impressive 0.29 Cd, contributing to improved aerodynamics. Additionally, the M5 is adorned with new 20-inch double five-spoke wheels, while the reverse camera automatically cleans any mud, dust, or debris that may accumulate on it.
Inside the cabin, the M5 offers a state-of-the-art experience. The cockpit features a floating center control screen and an instrument panel. The latest model boasts a 10.25-inch instrument panel and a 15.6-inch central control screen, both powered by Huawei Harmony OS 3.0. These screens provide intuitive controls and access to various vehicle functions. Another notable addition is the presence of front massage seats, ensuring a comfortable and luxurious ride for occupants.
Furthermore, the M5 offers the Huawei MagLinkTM feature, which enables content exchange and device linking within the vehicle. For instance, a parent sitting in the front row can conveniently manage the tablet that their child is using in the back, ensuring a seamless and connected experience for everyone.
Underneath the sleek exterior, the AITO M5 Standard Edition relies on the Huawei DriveONE ePowertrain platform. It is equipped with a single electric motor that powers the rear wheels, supplemented by a 1.5-liter engine acting as a range extender. The four-wheel drive variant delivers an impressive 490 horsepower and 675 Nm of torque, enabling it to accelerate from 0 to 100 km/h in just 4.4 seconds. On the other hand, the rear-wheel drive model produces 269 horsepower and 360 Nm of torque, achieving a 0 to 100 km/h acceleration time of 7.1 seconds. The M5 is equipped with a 40 kWh battery pack, providing a commendable CLTC range of 260 kilometers. Remarkably, with a full tank of fuel and a fully charged battery, the M5 can cover an impressive distance of 1,455 kilometers.
Excitement surrounds the release of the AITO M5, with deliveries expected to commence in August 2023. This groundbreaking electric SUV is poised to make a significant impact on the automotive industry, offering cutting-edge technology, remarkable mileage, and a luxurious driving experience to consumers.