NUST Rocket Team (NRT) Propels Pakistan's Space Sector to New Heights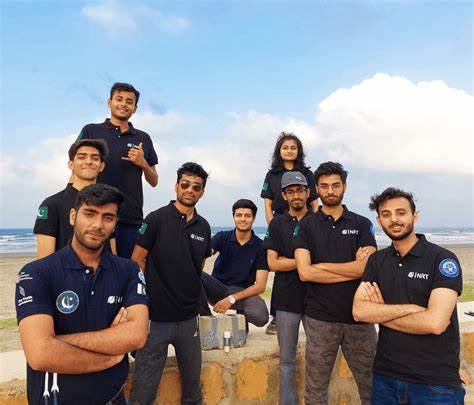 NUST Rocket Team (NRT) has emerged as a driving force in advancing science and technology in Pakistan. Founded in 2019 by a group of passionate students from the National University of Science and Technology (NUST), the team has been dedicated to uplifting Pakistan's space sector and establishing a strong foothold in the global arena.
As Pakistan's first undergraduate student rocketry team, NRT aims to foster a culture of space science in the country. With their unwavering determination, these talented individuals are harnessing their full potential to propel the sector forward.
One of the team's notable achievements is the construction of Pakistan's first-ever student-built sounding rocket, Project Raftaar. This groundbreaking endeavor led NRT to represent the country on international platforms, including the Spaceport America Cup in 2021. In a remarkable feat, the team emerged victorious, defeating three US university teams, including the host university. By making their mark on the global stage, NRT is putting Pakistan on the map in the field of space exploration.
In addition to their international endeavors, NRT is actively engaged in stimulating STEM activities through its Outreach Program. The team conducts inspiring sessions and workshops in local schools and colleges to ignite curiosity and raise awareness among young students about the wonders of space science and rocketry.
A recent milestone for NRT was the successful development of an in-house rocket propulsion system. With sheer determination and skill, the team fabricated a rocket motor from scratch. In June, they achieved a momentous breakthrough by conducting their first rocket motor test, showcasing their prowess and technical expertise. The test video is a testament to their remarkable achievements and serves as a source of pride for the entire team.
NRT has taken a significant step forward and remains committed to progressing at an even greater pace. Their next objective is to further enhance and perfect the propulsion system for future missions and endeavors. Their relentless pursuit of innovation serves as an inspiration to aerospace departments across the country and motivates aspiring engineers to revolutionize the field.
Moreover, NRT aims to inspire the younger generation to pursue space sciences and rocketry, nurturing their passion and talent. By encouraging the youth to explore the vast possibilities of the space sector, NRT envisions a future where Pakistan continues to strengthen its presence in the global space community.
Video link: [WATCH NRT's rocket propulsion test here!](insert video link)
The NUST Rocket Team's journey is not only shaping the future of space exploration in Pakistan but also igniting a spirit of innovation and discovery among the nation's brightest minds. With their remarkable achievements, NRT is propelling Pakistan's space sector to unattained pinnacles.