Zong 4G and Sehat Kahani Forge Partnership to Revolutionize Digital Health in Pakistan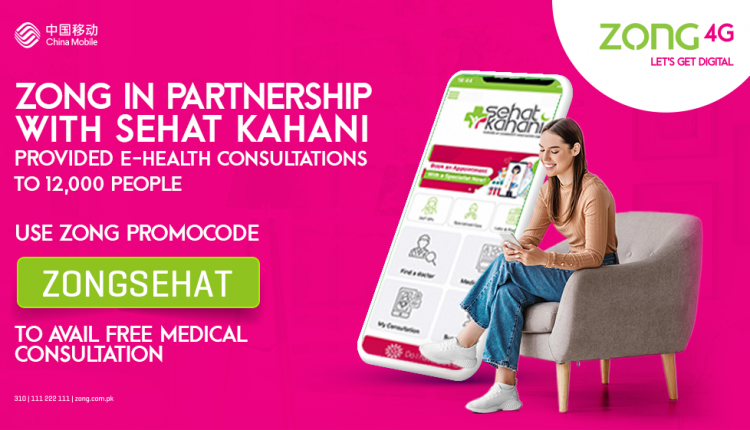 Zong 4G, Pakistan's leading telecommunications operator, and Sehat Kahani, a pioneering telemedicine platform, have joined forces in a groundbreaking collaboration aimed at transforming healthcare in the country.
The partnership was formalized during a contract signing ceremony held in Islamabad on the 7th of June, signifying a significant milestone in the strategic alliance between Zong 4G and Sehat Kahani.
The ceremony was attended by Dr. Sara Saeed Khurram, CEO of Sehat Kahani, along with representatives from Zong 4G, demonstrating the shared commitment of both organizations to drive innovation and accessibility in the healthcare sector.
Through this collaboration, Zong 4G and Sehat Kahani are poised to extend the reach of telemedicine services across Pakistan, bridging the gap between healthcare professionals and patients, particularly in remote and underserved areas. The partnership leverages Zong 4G's robust network infrastructure and Sehat Kahani's innovative telemedicine platform to provide quality healthcare services to individuals in even the most inaccessible regions of the country.
In the coming year, Zong 4G and Sehat Kahani have outlined an ambitious agenda focused on increasing awareness in key areas of healthcare and mental well-being. The collaborative efforts will address critical topics such as oncology, water and air-borne diseases, mental health, and maternal and child health, aiming to educate and empower communities across Pakistan.
The partnership between Zong 4G and Sehat Kahani extends beyond this recent collaboration, as the two organizations have previously worked together on sustainability initiatives. During the COVID-19 pandemic, they joined forces to offer free online consultations, ensuring uninterrupted access to healthcare services during challenging times. Additionally, in response to the devastating floods that affected Pakistan in 2022, Sehat Kahani, with unwavering support from Zong 4G, established medical relief camps to deliver much-needed healthcare assistance to the affected communities.
Dr. Sara Saeed Khurram expressed her enthusiasm for the partnership, stating, "We are thrilled to partner with Zong 4G to further strengthen our mission of providing accessible healthcare to all Pakistanis. This collaboration will enable us to expand our telemedicine services and significantly impact the lives of millions."
A spokesperson for Zong 4G also highlighted their excitement about the partnership, saying, "We are incredibly proud of Sehat Kahani's past efforts in the field of digital medicine, and it gives us great pleasure to join hands again to revolutionize the healthcare landscape of Pakistan."
The collaboration between Zong 4G and Sehat Kahani holds immense potential to transform healthcare accessibility and delivery in Pakistan. By combining their expertise, resources, and dedication to serving the community, these organizations aim to empower individuals, improve healthcare outcomes, and create a brighter and healthier future for all Pakistanis.