Lahore Braces for Severe Urban Flooding as Monsoon Rainfall Breaks Records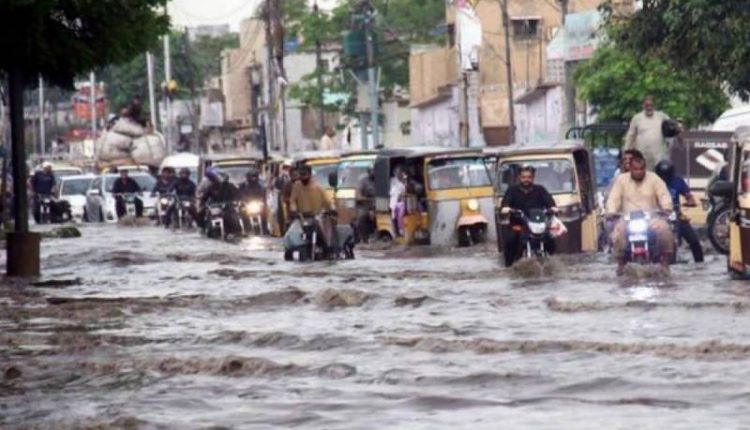 The city of Lahore is currently facing a significant risk of urban flooding as it experiences an unprecedented monsoon spell, potentially making it one of the most historic rainfall events in the provincial capital's history.
From the early hours of the morning, heavy rainfall began pouring down on Lahore, causing non-stop downpours that have inundated nearly every part of the city. This relentless rainfall has exposed serious flaws in the urban planning and drainage systems of Lahore, leaving the city ill-prepared to handle such extreme weather conditions.
The Monsoon Control Room, located at the WASA Head Office in Lahore, has released the latest data, revealing astonishing rainfall figures across various areas of the city. Lakshmi Chowk, a prominent locality, has already recorded a staggering 279mm of rainfall, indicating the magnitude of the ongoing deluge. Other areas have also experienced significant rainfall, with Nishter Town receiving 277mm, Gulshan-e-Ravi 268mm, Qurtaba Chowk 265mm, Johar Town 265mm, Johar Town 255mm, and Tajpura 245mm.
The figures paint a vivid picture of the relentless rain that has been pounding Lahore, resulting in waterlogged streets, overwhelmed drainage systems, and potential threats to public safety. The impact of this heavy rainfall extends beyond inconvenience, posing serious risks to the city's infrastructure, transportation, and the well-being of its residents.
As the day progresses, the monsoon rainfall continues unabated, raising concerns about the city's ability to cope with the excessive precipitation. Authorities are working tirelessly to mitigate the risks and minimize the impact of flooding. However, the gravity of the situation necessitates urgent action and long-term planning to address the underlying issues in Lahore's urban infrastructure.
In light of the current conditions, residents are urged to exercise caution, stay updated with the latest weather advisories, and follow any instructions issued by local authorities. Taking necessary precautions, such as avoiding flooded areas, refraining from unnecessary travel, and ensuring proper drainage within homes and neighborhoods, can significantly contribute to personal safety during this challenging period.
The record-breaking monsoon rainfall in Lahore serves as a stark reminder of the urgent need for comprehensive urban planning, improved drainage systems, and sustainable infrastructure development. Addressing these concerns will not only help mitigate the immediate risks of flooding but also enhance the city's resilience to future extreme weather events. It is crucial for authorities to prioritize these measures to safeguard the well-being and livelihoods of Lahore's residents.
As the monsoon season continues, the focus remains on effectively managing the current situation while also developing long-term strategies to prevent future flooding disasters. The collaboration of government agencies, urban planners, and the community at large is vital to ensure the safety and sustainability of Lahore in the face of changing climate patterns and increased rainfall intensity.
Here is a detailed breakdown of the record-breaking monsoon rainfall spell till 12:46 PM.
| | |
| --- | --- |
| Area | Rain (mm) |
| Lakshmi Chowk | 279 |
| Nishter Town | 277 |
| Gulshan-e-Ravi | 268 |
| Qurtaba Chowk | 265 |
| Johar Town | 255 |
| Tajpura | 245 |
| Pani Wala Talab | 245 |
| Iqbal Town | 232 |
| Mughalpura | 215 |
| Gulberg | 208 |
| Chowk Nakhuda | 205 |
| Farrukhabad | 200 |
| Upper Mall | 190 |
| Samanabad | 167 |
| Jail Road | 145 |
| Airport | 127 |