Dow University of Health Sciences (DUHS) Implements Revised Fee Structure to Enhance Academic Offerings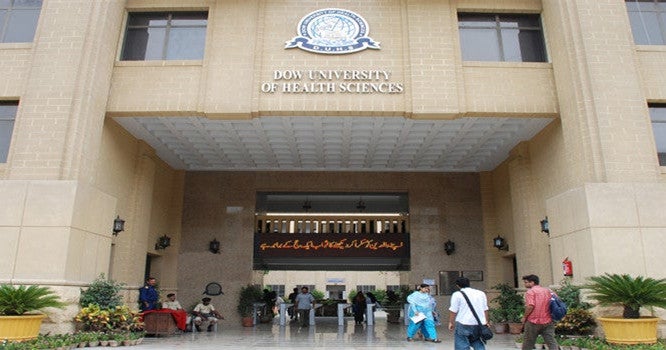 In a recent development, the Dow University of Health Sciences (DUHS) has announced revisions to its fee structure for BS and professional programs, marking an important step towards enhancing the educational experience for students. The Finance and Planning Committee of DUHS recommended these revisions during its 27th and 28th meetings on May 13 and June 17, respectively.
The revised fee structure applies to all undergraduate (Bachelor of Science) and postgraduate programs at DUHS. These changes were proposed to ensure the financial sustainability and continuous improvement of academic offerings. The committee's recommendations have been implemented to meet these objectives.
As per the revised fee structure, the examination fee for the BS program has been set at Rs. 5,000, ensuring that students have access to the necessary resources and support for their academic assessments. Additionally, the joint market sheet fee has been set at Rs. 3,000, facilitating a streamlined process for students.
In line with the commitment to providing comprehensive facilities and services, DUHS has introduced additional fees to cover various aspects of student life. These fees include a transport fee of Rs. 32,000, ensuring convenient and hassle-free transportation for students. Moreover, development charges of Rs. 14,500 have been introduced to support ongoing improvements and infrastructure development within the university.
DUHS also offers hostel facilities to accommodate students, and the revised fee structure reflects adjustments in this regard. Students availing hostel services will be required to pay a revised hostel security deposit of Rs. 25,000, guaranteeing a safe and secure living environment. The hostel fee has been set at Rs. 40,000, covering essential services and amenities to facilitate a comfortable stay for students.
It is important to note that students with a gap in any examination are required to pay a fee of Rs. 10,000. This fee structure is designed to ensure that students maintain academic continuity and progress seamlessly throughout their educational journey.
Furthermore, in the event of a student cancelling their admission to Dow University, a one-year tuition fee will be applicable. For students cancelling their admission to the professional program, a deduction of Rs. 300,000 will be made, aligning with university policies and ensuring fair practices.
These revisions to the fee structure at DUHS reflect the university's commitment to providing a quality education that is sustainable and in line with the evolving needs of students. The fees collected contribute to enhancing academic offerings, improving infrastructure, and providing essential services to students. With this revised fee structure, DUHS aims to foster an enriched learning environment that empowers students to succeed in their chosen fields of study.