104-Year-Old Dorothy Hofner Sets Skydiving Record
Age is Just a Number as Chicago Woman Inspires with Skydiving Triumph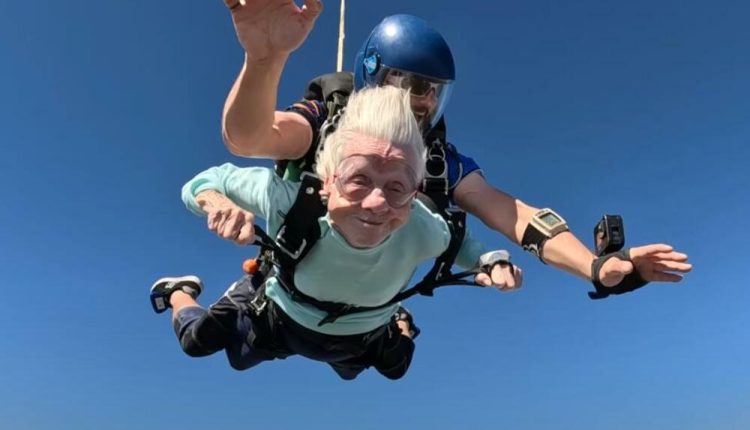 New York  A 104-year-old woman has etched her name in the annals of skydiving by setting a global record, making headlines worldwide.
According to recent media reports, the remarkable feat was achieved by Dorothy Hofner, a 104-year-old resident of Chicago, USA. Mrs. Hofner accomplished this extraordinary record by taking a leap from an aircraft, showcasing her prowess in the exhilarating sport of skydiving.
The media buzz intensified as reports revealed that Mrs. Hofner not only hails from Chicago but also chose the same city as the backdrop for her daring skydiving adventure. Her name now stands as a testament to resilience and adventure.
This momentous achievement unfolded on a Sunday, leaving Mrs. Hofner elated and overwhelmed with joy. The octogenarian expressed boundless happiness at accomplishing this feat, breaking the barriers of age and inspiring many with her courage.
Notably, this isn't Mrs. Hofner's first foray into the world of extreme sports. Last year, a 103-year-old woman from Sudan held the record, and Mrs. Hofner, with her indomitable spirit, has now surpassed that milestone, showcasing that age is just a number when it comes to pursuing one's passions.
This remarkable accomplishment has resonated globally, serving as an inspiration to individuals of all ages, encouraging them to embrace adventure and live life to the fullest. Dorothy Hofner's name is now synonymous with breaking boundaries and redefining what is possible, proving that age is no obstacle to achieving greatness.