Young Emirati Cancer Survivor's Inspiring Mission
Faris AlZeyoudi's Courageous Fight and Aspiration to Serve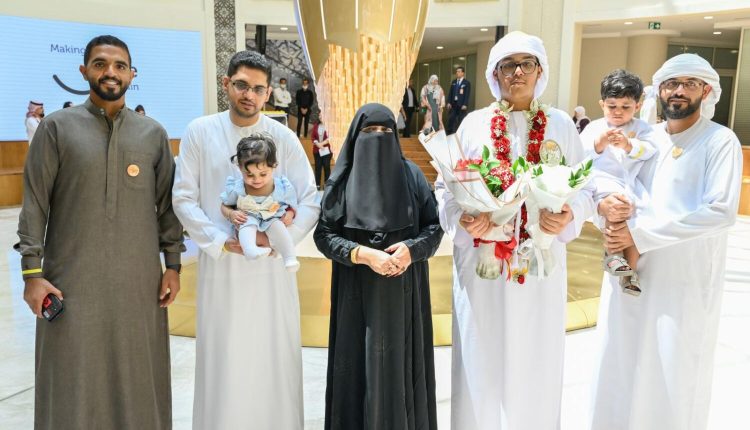 In an inspiring tale of triumph over adversity, 14-year-old Emirati boy Faris Ahmed AlZeyoudi has emerged victorious from a grueling battle against cancer, marking his remarkable journey towards recovery and a newfound mission – to serve his beloved nation as an army soldier.
Amidst Childhood Cancer Awareness Month, Khaleej Times had the privilege of speaking to the families of two courageous cancer survivors, whose stories of resilience not only serve as a beacon of hope for countless others facing similar challenges but also underscore the power of medical expertise, unwavering support, and unwavering courage in the face of adversity.
Faris's journey began earlier this year when he was plagued by a persistent chest cough and seemingly relentless allergies that persisted for three long weeks. As his condition deteriorated, his concerned parents rushed him to an Abu Dhabi hospital's emergency room for immediate medical attention.
Diagnostic examinations, including blood tests and radiological assessments, brought forth a startling revelation: a mass was discovered nestled within Faris's chest. The news cast a shadow of shock and uncertainty over his family as they learned that he was battling stage-IV Hodgkin's lymphoma.
Fighting against this formidable adversary, Faris was transferred to Burjeel Medical City, where he embarked on a rigorous regimen of chemotherapy and other medical interventions. Throughout his challenging treatment, Faris maintained an unbreakable spirit that served as a source of inspiration for everyone around him. His family, consisting of supportive parents and siblings, rallied together to provide him with love and encouragement, never once wavering in their belief in his ability to conquer the illness that threatened his life.
Shamis AlZeyoudi, Faris's brother, shared, "Even when he was at his weakest, Faris would talk about his dream of becoming a soldier. He told us that he wanted to protect his country and make us proud," his voice filled with emotion and pride.
After nearly eight months of unwavering determination and expert medical care under the watchful eye of Dr. Zainul Aabideen, a consultant in paediatrics and head of paediatric haematology, oncology, and bone marrow transplant at Burjeel Medical City, Faris Ahmed AlZeyoudi emerged victorious in his battle against cancer.
Faris's remarkable story serves as a testament to the indomitable human spirit and the boundless strength that can be harnessed when faced with life's most formidable challenges. As he embarks on a new chapter in his life, Faris sets his sights on a noble mission – to become a soldier and serve his beloved nation, embodying the values of courage, resilience, and dedication that define his inspiring journey of survival and hope.