Google's Pixel 8: AI-Powered Smartphones & Smartwatch Breakthrough
Experience the Future: Pixel 8 Series and Google Watch 2 Elevate Tech Expectations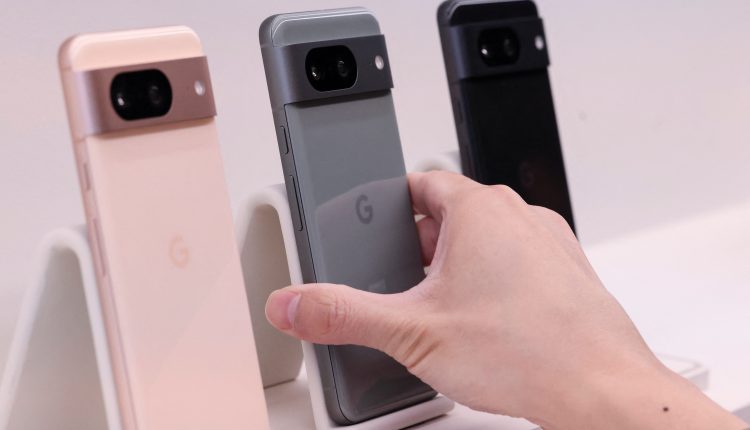 In a bid to redefine the intersection of technology and artificial intelligence (AI), Google, a subsidiary of Alphabet, introduced its latest offerings on Wednesday, showcasing the Pixel 8 smartphones and a revamped smartwatch at the Made by Google event in New York.
While Google's Pixel series may not match the sheer volume of Apple's iPhone sales, it stands as a testament to the cutting-edge capabilities of Android products. Known for attracting photography enthusiasts and users who prefer the pure Android experience, devoid of modifications by other manufacturers, the Pixel series is set to push the boundaries of available technology.
The highlight of the Pixel 8 lineup is the incorporation of Google's latest mobile processor, the Tensor G3. This custom chip boasts enhanced AI and machine learning capabilities, empowering users to process more data directly on the device and in the cloud. The AI features embedded in the devices aim to revolutionize photography, facilitate webpage summarization, and combat spam calls, according to statements made by Google executives during the event.
The flagship Pixel 8 Pro introduces an innovative Thermometer app designed to measure body temperature, pending approval from the Food and Drug Administration (FDA). The smartphones come with a starting price of $699 for the Pixel 8 and $999 for the Pixel 8 Pro, signaling a $100 increase compared to their predecessors. Consumers can get their hands on these devices starting October 12.
Analysts, such as Ryan Reith from IDC, noted Google's strategic focus on promoting the integration of AI directly into the devices, a move that could potentially increase market share, especially in the competitive U.S. market.
In a surprising contrast to Apple's recent iPhone 15 launch, Google has opted not to raise prices despite introducing significant technological upgrades. The move appears to be a response to the prevailing global smartphone slump.
Currently ranking 12th globally in terms of shipments, with a 0.9% market share, Pixel phones may see an uptick in demand during the holiday season with the latest updates and advancements.
Google's virtual assistant is also set to receive a boost, with plans to integrate generative AI capabilities. This enhancement will enable the virtual assistant to assist users in planning trips, catching up on emails, and engaging in more sophisticated interactions with follow-up questions.
Alongside the Pixel 8 series, Google announced the release of Google Watch 2, an upgraded version of its smartwatch launched in October 2022. Priced at $349, the new smartwatch features a digital crown and advanced health tracking capabilities powered by AI, further cementing Google's commitment to the fusion of technology and artificial intelligence.