KFC and PUBG Collab: Gaming Meets Finger Lickin' Flavor
Dive into PUBG with KFC for In-Game Delights and Epic Rewards!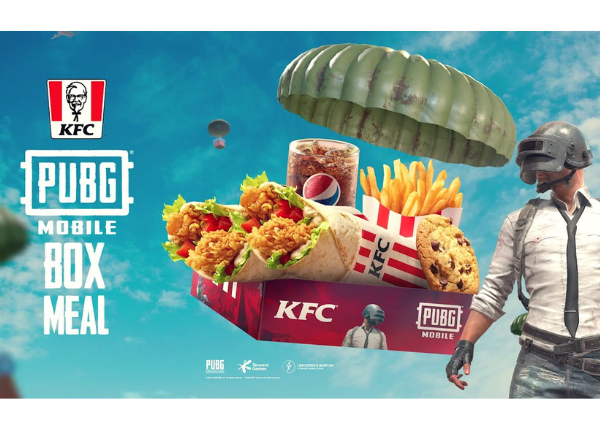 In a groundbreaking collaboration, KFC is set to enthrall PUBG: BATTLEGROUNDS and PUBG MOBILE enthusiasts, inviting them to engage in a thrilling battle royale experience while savoring the taste of victory, quite literally.
Today marks the launch of this extraordinary partnership, as KFC's presence will be felt in the virtual realm of PUBG. Within the game, players will have the opportunity to dine at in-game KFC restaurants, where they can indulge in delectable KFC delicacies, each of which offers unique health or energy boosts, providing a competitive edge in the battle for supremacy. Moreover, players can adorn themselves with KFC-themed items, including the KFC Royale Colonel Set, Chicken Champ Cover and Set, Royale Delight Top and Parachute, Seasoned Squad Graffiti, and Crispy Crunch Avatar Frame.
For a limited duration during this collaboration, PUBG: BATTLEGROUNDS players will have the chance to acquire KFC-themed in-game items and stumble upon KFC establishments on the Erangel map. These virtual restaurants feature an array of KFC-themed offerings at their kiosks, including the KFC Chicken Box, KFC French Fries, and KFC Energy Drink, each offering substantial in-game health benefits. Additionally, exclusive gear, attire, and accessories such as the KFC themed Colonel's Bucket Hat, Colonel's Jacket, Colonel's Shorts, Colonel's Clogs, Colonel's Parachute, and the "It's Finger Lickin' Good" Spray will be at players' disposal. The game environment will also be enriched with mouthwatering KFC visuals, including a statue of Colonel Sanders, plane banners, electric billboards, and map decals.
Val Kubizniak, KFC Global Chief Marketing Officer, expressed his enthusiasm for the collaboration, stating, "We are the pros when it comes to making the world's best finger lickin' good fried chicken and delivering on the taste you crave. Now PUBG: BATTLEGROUNDS and PUBG MOBILE fans can enjoy the iconic KFC taste like never before then dive into a battle royale and score big loot for a double taste of victory."
Taeseok Jang, Executive Producer of PUBG: BATTLEGROUNDS, PUBG STUDIOS, echoed this sentiment, emphasizing the exciting gaming experience that awaits players. "This partnership delivers an exhilarating gaming experience where players land, loot, and survive while enjoying exclusive cosmetics," said Jang. "It ensures that players savor a finger lickin' good taste of victory, perfectly blending the worlds of KFC and PUBG: BATTLEGROUNDS."
Vincent Wang, Head of PUBG MOBILE Publishing at Tencent Games, added, "PUBG MOBILE is thrilled to partner with KFC, the internationally renowned restaurant brand. As one of the biggest mobile games in the world, PUBG MOBILE is committed to bringing quality gameplay to people on the move, just like KFC brings great food to people in thousands of locations globally. We can't wait for KFC customers to experience diving into PUBG MOBILE and securing that chicken dinner."
The PUBG MOBILE x KFC collaboration is available from October 2nd until November 6th. Players can download PUBG MOBILE for free on the App Store and Google Play Store. For more information on in-game updates, visit the PUBG MOBILE website.
As for the PUBG: BATTLEGROUNDS x KFC collaboration, it will be accessible from October 11th to November 7th on PC and from October 19th to November 15th on consoles. To stay updated on the latest developments in PUBG: BATTLEGROUNDS, please visit [https://pubg.com/en-na](https://pubg.com/en-na) or follow the official social media channels (Twitter / Instagram / Facebook / TikTok).
This unique collaboration promises to redefine the gaming experience for players, offering not only intense battles but also a mouthwatering taste of victory. Don't miss out on this exciting opportunity to combine your love for gaming with the irresistible flavors of KFC.